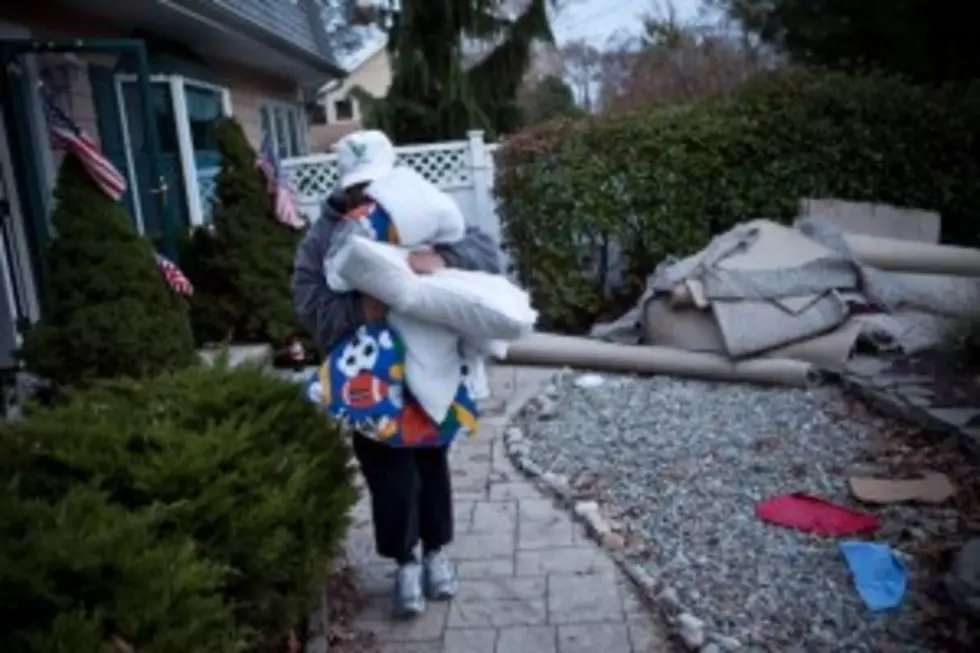 Where to Go for Food, Clothing After Sandy
Andrew Burton/Getty Images
People all over New Jersey are still in need of food, clothing and other supplies after the damage caused by Hurricane Sandy. If you are one of those people, there are places to go and organizations that are dedicated to helping you.
All events, hours of operation and locations are subject  to change without notice
Monmouth County:
Englishtown – Gloria Shank – Donating two twin mattresses, bed frame, blankets, pillows, etc. Available for pickup – 732-446-6985
Ocean County:
Brick – Church of the Visitation – 755 Mantoloking Road, Brick, NJ 08723 – Free hot food and clothing available from 7AM to 7 PM every day.
Brick - PAL building, 60 Drum Point Road, Brick - Dinner featuring pulled pork and chicken - 10:30AM-7:30PM.
Brick – 1683 Route 88 Brick, NJ – Offering free group therapy to those impacted by Hurricane Sandy Free Group Therapy, Tuesdays at 7:30 p.m. beginning November 27. For additional information about the group call 732-840-5266.
Point Pleasant Beach - St. Gregory's Pantry and St. Mary's By the Sea Episcopal Church -offering non-perishable and perishable food, cleaning supplies (paper towels, garbage bags, etc), personal toiletries, used clothing including jackets and coats, new blankets and towels.
Toms River - First Presbyterian Church, Hooper Avenue, Toms River - Distribution point for food, blankets, cleaning supplies, diapers and personal hygiene supplies by the FoodBank of Monmouth & Ocean counties
Toms River - Christ Episcopol Church, 415 Washington Street, Toms River - cleaning supplies (bleach, mops, garbage bags, etc). Mon- Fri 9AM-11AM and 2PM-5PM. Saturday 9AM-5PM.
Toms River – Village Family Dental – 306 Hooper Ave. Toms River, NJ 08753 – Donating dental services to those in need.
Toms River – Evolution Martial Arts – 1565 Route 37 West #8, Toms River, NJ 08755 – Assortment of donations to give away, willing to deliver.
Toms River - former Honda dealership Route 37,Toms River - clothing, baby good & food, toiletries, water, cleaning supplies available that have been brought in via plane from Pennsylvania. Open through 11/24 (closed Thanksgiving) 9AM-9PM
Waretown – 367 Route 9 , Waretown, NJ – offering a weekly community hot lunch starting November 30th, 12:30 pm , in the Parish Hall
Waretown - The John The Fifth Foundation holds a Thanksgiving Dinner & Football at the Waretown Firehouse beginning at 1PM. The Fifth Foundation is a non-profit organization dedicated to heloing citizens of Waretown during a time of need.
All Over NJ
Mormon Helping Hands - Volunteers from the Church of Jesus Christ of Latter Day Saints are available to assist you and your neighbors cut fallen trees, remove drywall, insulation, flooring, furniture, appliances, tarp roofs, etc.,through Decem 22, 2012.  Priority will be given to senior citizens, first responders, and others with special needs.  Our volunteers work free of charge and provide the tools and equipment necessary to complete the work.  To request assistance in NJ call: 347-709-0438.
Can you please get this number out to residents over the air, on your webpage?  Thank you so much.
If you have questions, please feel free to contact me any time.
Camp Bow Wow – NJ Dog Camp willing to take in pets
Elmwood Park – 53 Midland Avenue, Elmwood Park, NJ 07407
Cherry Hill – 3 Esterbrook Lane, Suite 250, Cherry Hill, NJ 08003
Lacey – 695 Challenger Way, Forked River, NJ 08734
Midland Park – 95 Greenwood Avenue, Suite B, Midland Park, NJ 07432
Bridgewater – 10W Chimney Rock Road, Bridgewater, NJ 08805
Eatontown – 284 Old Deal Road, Eatontown, NJ 07724
Lawrenceville – 231 Bakers Basin Road, Lawrenceville, NJ 08648
Middlesex – 288 Lincoln Boulevard, Middlesex, NJ 08846
More From Restore The Shore